Tank Restoration on Boats with FERTAN Tapox - the Perfect Solution
Tank Restoration for Ships
THE PERFECT SOLUTION
Boats generally rust because standard surface preparation leaves traces of corrosion that grow and destroy the paint system from below. There is no better or easier way to achieve a corrosion-free metal surface than with FERTAN Tank Sealer.

DESCRIPTION
Specially engineered for application on a variety of different tanks, like fuel tanks made of aluminum or steel for vehicles, ships, water tanks and even oil tanks. This product is also widely used in the industry for coating concrete floors that are subjected to lot of wear and tear!
To achieve proper results it is os absolutely mandatory to follow the applications instructions of our 2-Part Epoxy tank sealer component precisely!

APPLICATION
The container of "Component1" was designed large enough so you can add the hardener (or component2) and mix both components together. Before application, mix the tank sealer (component 1) thoroughly! Only then, add the hardener and mix both products until you have a thin fluid.
Clean the tank before application thouroughly as well and in case of of already exisiting corrosion, derust the tank and we recommend applying our rust ronverter for best possible results. Apply the tank sealer into a completely dry tank. Follow application instructions, including recommended times lines and temperatures precisely.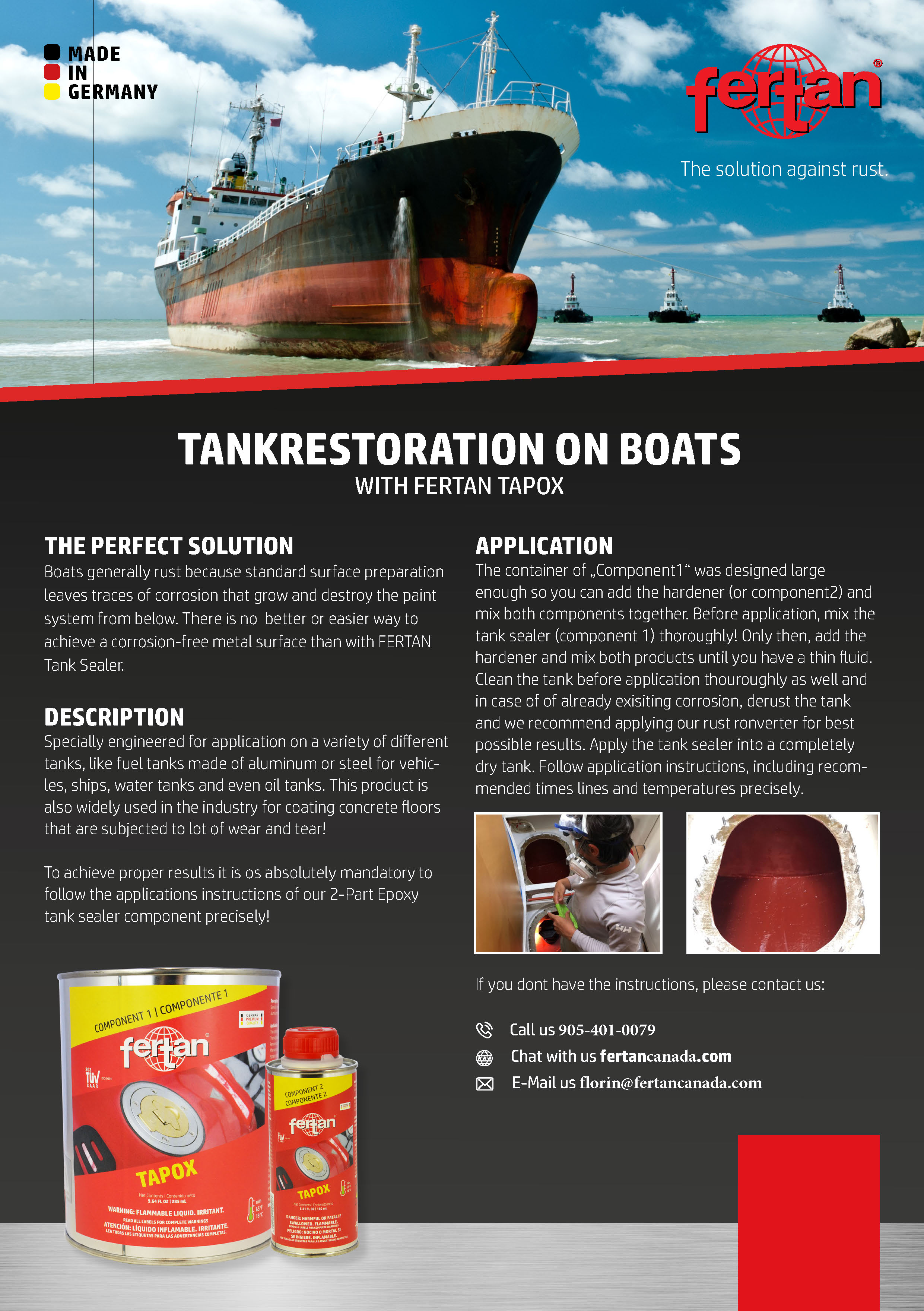 HIGHLIGHTS
Fuel resistant
Ethanol resistant
Temperature resistant up to 176°F
Suitable for all tank types (e.g. motorbike, car, boat, ship, fuel oil tank, industrial tank)
BE BACK ON THE SEA IN ONLY 3 STEPS:
Cleaning with FERTAN Tank cleaner
Derusting with FERTAN Rust Converter
Coated with FERTAN 2- part epoxy based tanks sealer