Fertan® Canada your retail and wholesale supplier of corrosion protection products.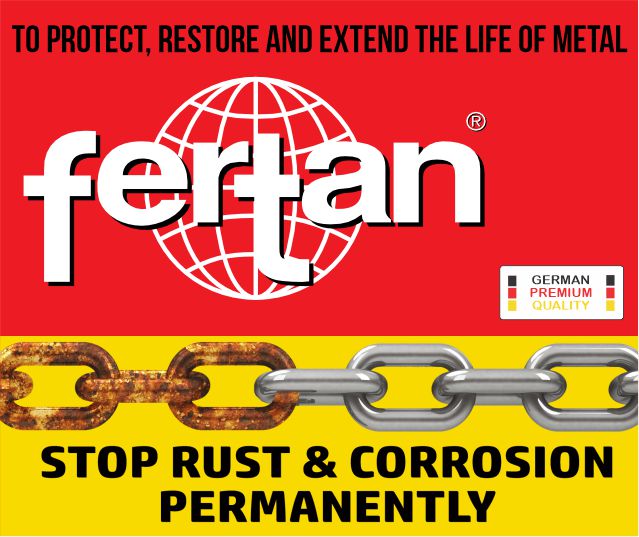 Fertan® is Now Available in Canada
Recognizing the need for superior rust and corrosion products, Florin Largeanu brought the line of Fertan products to Canada, supplying the automotive, maritime, industrial, industrial and do-it-yourself (DIY) markets in both a retail and wholesale capacity.   
Solving Rust Problems From Bolts to Bridges
Made in Germany, Fertan has established itself as one of the leading producers of high-tech rust solutions and specialties in the automotive industry and other industrial sectors. 
Minimum Effort. Maximum Results!
View the Fertan line of rust inhibitors, removers, prevention and protection products and application tools. 
Canadian Distributor
In Canada, Fertan products are sold through the Niagara Falls, Ontario distributor directly to consumers, and through a network of dealers currently being developed. 
Meet Florin Largeanu
Florin brings 38 years of expertise in the automotive industry, operating a full service auto repair business in Niagara Falls. His wealth of knowledge working with vehicles and helping clients with rust prevention offers a natural extension to becoming the Canadian distributor for Fertan.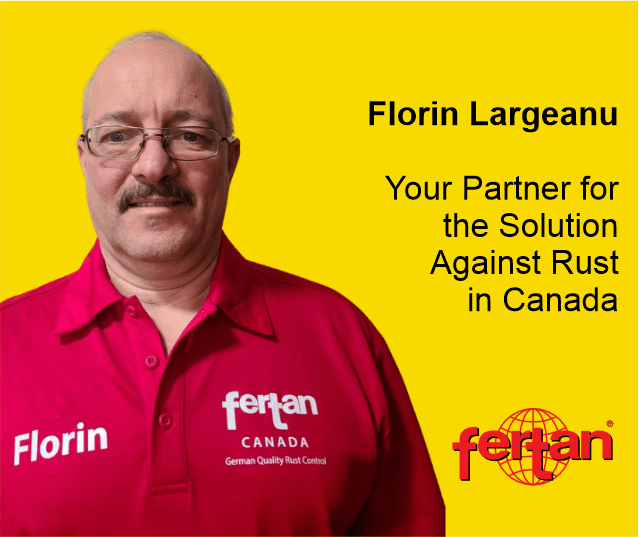 What Our Customers Say...
Most of the rust converters currently being sold are anemic and ineffective. In contrast, this one is outstanding and worth the extra money. I have used this on a number of rusty items with good success. The key is to make sure any flaky rust is removed so sand the surface first and then wash it off with water. You can then apply the rust converter. I recommend two or more coats for best results. If your item is black you can then paint it with black epozy paint and have something that will last for many years. I did this on a truck and it is better than new.
About Fertan
Fertan is a family-owned company that started production in 1979. Working from a small one-room basement apartment, founder Siegfried A. Lang worked diligently to create his first product—a formulated protective chemical barrier. Siegfried patented his rust converter and sold it from the trunk of his car.

Over four decades later, Fertan delivers the same high-quality German designed solutions that help prevent, reduce, or eliminate corrosion. We support our international customers with their corrosion-related projects—classic car, motorcycle, home renovation, body shop, and large-scale industry—marine, freight, agriculture, and more.

Our customers have diverse needs, and Fertan has adapted to meet those needs. Whether you require corrosion control for some metal fixings, specialized products for your classic car, or a tailor-made solution for corrosion elimination and protection specific to your industry, we are here to help.

Fertan products also protect large metal structures like tanks, trailers, and cranes. Our innovative team of engineers continues to stay cutting-edge by bringing superior products to market. There is no limit to how far our products go. Fertan products are found traveling the globe—supporting equipment and components used in the original manufacture of central technology systems.
Our steadfast commitment to exceeding industry standards has made us one of the largest European manufactures in anti-corrosive solutions.
Now joined by his son Bjoern Lang, Siegfried has built a company on honesty, fairness, transparency, and trust. Customer communication is still the foundation of their success. Forty years later, they always put their customer first.

The secret to Fertan's ongoing success? A reasonable price point plus innovative technology. Fertan goes beyond surface rust, removes 100% of the deepest underlying rust, and offers longer-term corrosion protection for your specific applications.

Available by email, chat, or phone, a team of experts await your calls. Our customers love that our technicians are available to offer project advice from beginning to end - Specific guidance to troubleshoot your most urgent issues.
Mission
Our mission is to develop and bring to market high-quality solutions designed to prevent, reduce or eliminate corrosion on projects of all sizes. From classic car restoration to major industrial undertakings, we work closely with our customers to ensure that every get's done right..
Vision
We envision that FERTAN will become the most trusted source of corrosion control products worldwide; that our innovative solutions will continue to raise the bar for excellence; and that our emphasis on exceptional service will result in long-term, loyal relationships.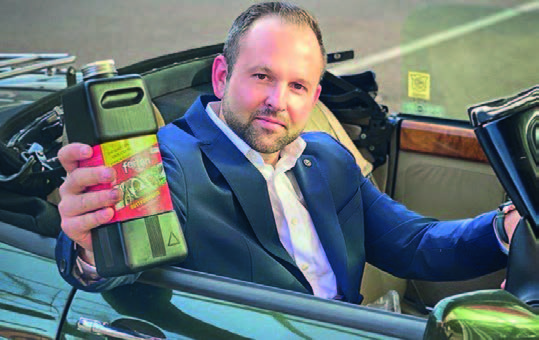 Bjoern Lang

Commitment 
We maintain a steadfast commitment to exceeding industry standards of excellence and to maintaining strong relationships with our customers. Our products are specifically developed with customer needs in mind, and our innovation team continually works to bring new and more advanced products to the market.
Affordability
Our products are reasonably priced so that we can fulfill the needs of a wide range of customers including those with limited resources.
Dependability
Our products are effective, dependable and can be trusted to provide maximum solutions for all projects related to corrosion. We have gained the trust and loyalty of customers and industry leaders worldwide.
Integrity
The work that we do every day is supported by the pillars of honesty, trust, transparency, and fairness.
Communication
We believe that communication is key component building strong relationships with our customers and industry leaders. We are accessible by both phone and email with extended hours to accommodate the different time zones of our international market. We also offer our customers advice when they need specific guidance.
Accountability
We hold ourselves accountable to our customers, to the industry, and to ourselves as professionals.